Welcome! Since the TpT Conference in Vegas, teacher tribes have been popping up all over the place! I am so glad and thankful to have found so many people who are just like me!
This week, I am linking up with my fellow #spedtribe peeps for a #SpedChatSaturday! This week is being hosted by
Lattes, Lessons, & IEPs.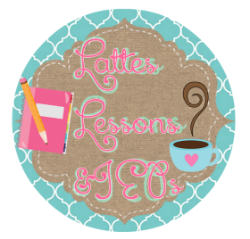 First up are my to-dos. These are the things that I really, really, REALLY need to accomplish before the start of school. 1) I am going to be implementing a classroom economy system this year as a part of my PBIS as well as to integrate the Personal Financial Literacy standards we now have in the state of Texas. Be on the lookout for a post about it soon. 2) I have never organized my math manipulatives since inheriting my room. I have no idea what I have and that needs to change ASAP. 3) I created
Supplemental Aids Rings
for my kiddos to put onto their notebooks this school year. I need to print those out, have them laminated, and be ready to use at the very start of school. 4) I am a bad sped teacher and have not yet read through the IEPs of my incoming 6th graders. Enough said. 5) I need to finish some tweaks I want to make to my classroom this year. No major overhauls, just some tweaks to try and help my life run more smoothly.
Next up is how to organize. The first and foremost is using your conference period to your advantage. Too many teachers chat during their conference period instead of getting work done. I challenge you to spend at least 2 conference periods a week shut away in your room the entire 45 minutes and no chatting with peers. You will be amazed by how much you can get done.
You also need to invest in a good planner. Note: I did not say expensive, I said good. I personally believe that you do NOT need to pay $50 for a good planner. There are many teacher on TpT that sell them and you can customize it to your needs! If you want to spend $50, go ahead. No judgement. But my frugal self will be sticking to her Blue Sky planner from Office Depot.
One of the reasons I love Blue Sky planers is because each day is filled with lines. I use these lines to create my to-do lists. I accomplish more when I write it down immediately and cross it off when completed. And you don't even necessarily need a planner for this! Sticky notes on your desk do the job as well.
My next way to organize is to label the places on my shelves. I know where everything goes, but for some reason my students can never remember. Having labels on the shelves eliminates any confusion and/or laziness on my students' parts.
One of my wishes is for my students to grow academically. It may seem like a no brainer, but many of my students tend to grow very slowly so it seems as if they are not at times. One of my other wishes is to grow my TpT business. I have been in grad school since the moment I stated my store, so I have not been able to add products nearly as often as I would like. The number of hours I will be taking will drop in the spring, so I am hoping that I will be able to dedicate more time to my store. And lastly, grad school has really gotten me down this summer. If I can survive fall semester, I will be in the clear and it will be downhill from there.
The first way for managing time goes against everything in my being. I have some lofty goals of how many activities I want my kiddos to do in class this year. After crying to my husband that I didn't think I would have life this school year creating so many things, he reminded why I found TpT in the first place. There are so many resources there to help me, and spending a little bit of money is worth it if it saves my sanity and allows me to spend time with my family. As we go about our day being the overachieving teacher we are, remember that family really does come first, and there are resources to help make this happen.
The second way to manage time I already brushed on. I will just add, I try to get as many to-dos checked off as possible before I go home for the day. Obviously, there is a limit to this, but my life is so much more productive and non-hectic when I get things done ahead of time like I actually intended to do instead of procrastinating till the last minute.
My promise to myself and my students is that I will grow and learn this school year. I have already found so many incredible ideas that I want to use this school year from my fellow teacher tribes. I cannot wait to see what this school year holds!
What is the one thing you hope to accomplish this school year?